Stainless Steel Braided Brake Line KIT for Subaru Legacy IV 2.0 R AWD BL (2007/09-2009/12)

Steel braided brake line kit for Subaru Legacy IV 2.0 R AWD BL (2007/09-2009/12)
Delivery contents:
Ready-to-mount line kit
Required accessories included (sealing rings)
Parts certificate (ABE)
Twistable banjos
Original probrake steel braided flex lines meet and exceed the highest quality standards and are being manufactured directly in Freiburg, Germany.
probrake is a TÜV certified company and registered as a manufacturer with the KBA.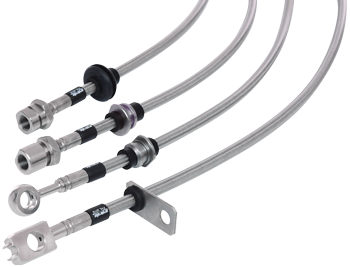 Steel braided brake hoses from probrake - perfomance and safety!

Benfits:
Exact and constant pressure point
Almost indestructible
Extremely resistant
Proven on the track and on the street
Safe against marten bites
With ABE (allgemeiner Betriebserlaubnis)
probrake manufactures steel braided hoses for your Subaru Legacy IV 2.0 R AWD BL with stainless steel or brass banjos.

Didn't find what you are were looking for? Request an offer.
We can produce hoses to your specifications or to your sample, with parts certificate.

---